Free Ground Shipping- or low cost Priority Mail shipping- phone in the order for free ground shipping with UPS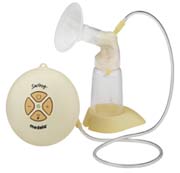 Newest research based technology available

2-Phase Expression research - Proven to get you more milk in less time. Proven to feel most like a baby

Designed for easy & convenient pumping
Mobility- Use tabletop, belt clip or shoulder/neck strap
Comfort- massaging SoftFit Breastshield
Convenience- Easily fits in purse or briefcase
Efficiency- Adjustable speed and vacuum
Everything included for pumping on the go!
No Guesswork, no worry- Simply adjust to your comfort & let the pump do the work

CONTENTS:

Drawstring bag to keep everything clean and in one place between pumpings
Compact, lightweight motor fits easily into purse or briefcase
Massaging SoftFit Breastshield for pumping comfort
Bottle Stand for stability and to help prevent spills
Easy to use power and vacuum controls, plus exclusive "let-down" button for more efficient pumping
Handy shoulder/neck strap attaches to motor for mobility while pumping
2 bottles & caps
Power cord
Tubing
Valve & membrane
Instructions
Breastfeeding information Guide

The Medela Swing breastpump can also be powered with batteries for pumping on the go. If used with the Easy Expression Bustier, this could be used hands free while up and about at home.

Let-down Mode—Simulates your baby's initial rapid suckling to initiate faster milk flow or "let-down."

Expression Mode—Simulates your baby's slower, deeper suckling for maximum milk flow in less time.

The breastshield with this pump is a size 24mm. If you have large breast and need a larger size, I will send a breast shield sizer with the pump so you can measure for a better fit, then the correct size can be ordered. If the SoftFit breastshield is too small, pumping may be painful.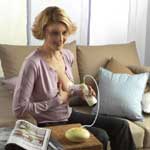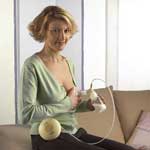 Medela Swing Single Breast Pump
Free Shipping for the US with Parcel Post
$169.99
Sale price: $159.99

*Paypal accepts check payment but the products will not be shipped until the check has cleared the bank.

Questions? Contact Mothering From The Heart...
Marsha@MotheringfromtheHeart.com


Prices on all products are as low as possible and also will include help from a trained professional. Personal emails or phone calls will always be handled by a professional lactation consultant when items are purchased with Mothering From The Heart.
Returns
All items sold with MFTH are personal care items, so if opened or used, they cannot be returned, only items in resalable condition can be returned and no returns after 30 days. Returns subject to a 10 % restocking fee plus actual shipping charges. Please contact Mothering From The Heart before sending any returns for approval.
Warranty
Contact the manufacturer directly for defective products. Breastpumps are covered by the manufacturers warranty and they will vary according to which product is purchased. Any defective products also need to be reported to us!

For questions, contact Marsha Bearden at marsha@motheringfromtheheart.com

Alternative Order Methods
Mail Order Form Click Here
Call Your Order In - We do take credit card orders by phone. MC, Visa cards accepted. Call your order toll free 877-528-7953 or (256) 528-7953