Order Whisper Wear Single Pump-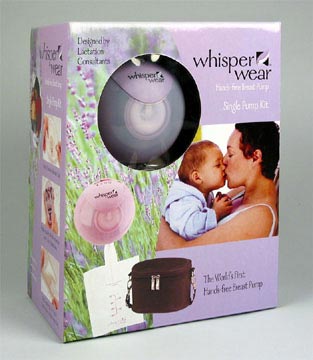 New Wearable Breastpump!

The world's first hands-free breast pump, Whisper Wear gives mother the freedom to carry on her daily activities even while pumping. The adjustable pump kit is worn discreetly underneath clothing, held in place by a standard bra. Soft silicone breast cup and microprocessor controlled cycling gently mimics the feel and suckling of baby. The sealed milk collection system is ultra-simple to both assemble and clean. The entire system and collected milk store compactly in the stylish carry bag. Two AA batteries power the pump over one month. World's first and only hands-free breast pump Pump anytime, anywhere Held in place, underneath clothing, with a standard bra Soft, silicone Breast Cup for comfort Microprocessor controlled suckling mimics baby Sealed milk collection system is most hygienic available Ultra-compact, stylish carry bag with integral cooler. If purchasing the Single pump- please see the Avent Isis Shells.

While this pump is Currently out of stock- I do have 2 separate Single pumps that can be rented. Before renting, $296.00 needs to be paid down. The rental fee is $60.00 a month for the pump. It will come with the Double pump cooler carry tote, 2 Single pumps, 2 breastcups, 2 stems, 2 valves and 25 collection bags, rechargeable battery pack, vehicle adapter and AC adapter. The bags are almost impossible to purchase now, but you may improvise with other collection bags. When the pump is returned you will be refunded any money due from the $296.00 less the original shipping cost and the $60.00 per month it is kept, and for any parts lost, missing or damaged. If the pump is kept for 5 months, you will be billed after that time at $60.00 a month. Return shipping cost will be your responsibility unless the pump is rented for over five months. At that time, we will pay return shipping. For this rental offer, please go to the WW Double Breastpump.

If you do not want to rent, please phone us toll free for something comparable for your hands free pumping needs! 877-528-7953


WW Double Breastpump
WW Single Breastpump
WW Collection Bags
Stems & Valves
AC Adapter
Vehicle adapter
Rechargeable Batteries
Breast Cups
Quick Clean Wipes
*Paypal accepts check payment but the products will not be shipped until the check has cleared the bank.

Questions? Contact Mothering From The Heart...
Marsha@MotheringfromtheHeart.com



Prices on all products are as low as possible and also will include help from a trained professional. Personal emails or phone calls will always be handled by a professional lactation consultant when items are purchased with Mothering From The Heart.
Returns
All items sold with MFTH are personal care items, so if opened or used, they cannot be returned, only items in resalable condition can be returned and no returns after 30 days. Returns subject to a 10 % restocking fee plus actual shipping charges. Please contact Mothering From The Heart before sending any returns for approval.

Warranty

Contact the manufacturer directly for defective products. Breastpumps are covered by the manufacturers warranty and they will vary according to which product is purchased. Any defective products also need to be reported to us!


For questions, contact Marsha Bearden at marsha@motheringfromtheheart.com.


Alternative Order Methods
Mail Order Form Click Here
Call Your Order In - We do take credit card orders by phone. MC, Visa, or Discovery Cards Accepted. Call your order (256) 528-7953