Order Hip Helper Diaper Bag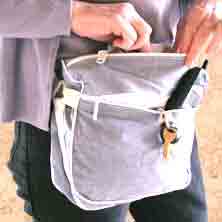 A great product to keep moms and dads hands free! This works like a fanny pack, but will hold more items. There is room for a cell phone, car keys, billfold, sunglasses, diapers and wipes.
The Hip Helper Diaper Bag is washable, lined, water resistant, and contains two zipper pockets. The waist strap is adjustable. If you prefer not to wear it around your waist, it can be attached around the Sling Ezee while you are wearing your baby to stay hands free, or it can be used as a shoulder strap.

Breastfeeding moms do not have the need to tag along large bulky diaper bags since formula isn't needed. This is perfect for outings with your baby.

Hip Helper Diaper Bag is only available in Chambray, Paisley, and pink dot.


Price: $20.00
Sale price: $18.00



If you are ordering

outside the US, please email for shipping cost. I can invoice the amount for you to pay online or you can add the extra shipping increments at the bottom of the catalog page. Please understand that some countries will charge you importing fees or taxes and those cost are unknown to us.

*Paypal accepts check payment but the products will not be shipped until the check has cleared the bank.


Questions? Contact Mothering From The Heart...
Marsha@MotheringfromtheHeart.com



Prices on all products are as low as possible and also will include help from a trained professional. Personal emails or phone calls will always be handled by a professional lactation consultant when items are purchased with Mothering From The Heart.
Returns
All items sold with MFTH are personal care items, so if opened or used, they cannot be returned, only items in resalable condition can be returned and no returns after 30 days. Returns subject to a 10 % restocking fee plus actual shipping charges. Please contact Mothering From The Heart before sending any returns for approval.

Warranty

Contact the manufacturer directly for defective products. Breastpumps are covered by the manufacturers warranty and they will vary according to which product is purchased. Any defective products also need to be reported to us!


For questions, contact Marsha Bearden at marsha@motheringfromtheheart.com


Alternative Order Methods
Mail Order Form Click Here
Phone in your order -AMEX, MC, Visa, or Discovery Cards Accepted. Phone your order to: (256) 528-7953