Navigation
Home
Product Catalog
Contact
About Us
Services
Shipping & Returns
Low Price Guarantee
Product Categories
Breastpumps
Breastpump Accessories and Parts
Feeding devices
Nursing Accessories
Rentals
Breastfeeding Help
Breastfeeding Help On
Help for Flat or Inverted Nipples!!
Help for Nursing Moms
Breastfeeding Info
Why is Breastfeeding So Important?
101 Benefits of Breastfeeding
What do the Scriptures Say About Breastfeeding?
Breastfeeding: It's Every Woman's Right
Mothering From The Heart
Promote Your Page Too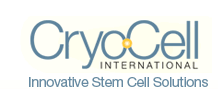 Medela Original PNS
Very Limited Stock- Sorry, Medela no longer makes this product
Pump Hands Free with the Pump In Style!
Click here to Order the Easy Expression Bustier

This breastpump is ideal for working mothers. The only retail pump available with the professional performance needed to stimulate and sustain motherís milk supply over extended use.
Features of the Pump In Style:
Pump In Style Original Breastpump in a stylish black microfiber bag with extra storage pockets inside and out
Portable convenience offers discreet pumping anywhere
Customized pumping with adjustable speed and vacuum control for mother's comfort
Quiet operation/ Autocycle simulates babyís nursing pattern automatically
Fold down bag panel provides stable surface for pump parts
Single or time-saving double pumping
Built in bottle holder for added convenience
Built in motor unit
Removable cooler carrier
Double pumping accessory kit
Cooling element
AC adapter
Battery Pak #9017004
4 collection containers and lids

Breastfeeding Information Guide
$224.00 Need to add Quick Clean wipes?
Out of Stock

Medela Advanced Shoulder Bag Pump in Style Breastpump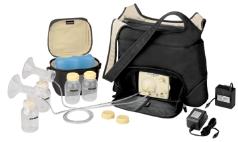 Advanced Pump in Style Shoulder Bag Breast pump

Freebies: Pick Two Samples
Pump in Style Advanced Breast Pump Shoulder Bag by Medela
Medela Advanced Backpack Pump in Style Breastpump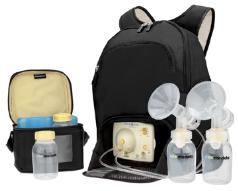 Advanced Pump in Style Backpack Breast Pump
Freebies: Pick Two Samples
Pump in Style Advanced Breast Pump Back Pack by Medela
Medela FreeStyle Hands Free Breastpump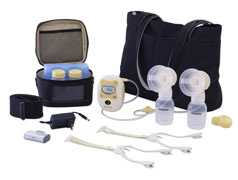 Freebies: Pick Two Samples


Medela Free Style Breast Pump

1 Year Extended Warranty of Breastpump