Navigation
Home
Product Catalog
Contact
About Us
Services
Shipping & Returns
Low Price Guarantee
Product Categories
Breastpumps
Breastpump Accessories and Parts
Feeding devices
Nursing Accessories
Rentals
Breastfeeding Help
Breastfeeding Help On
Help for Flat or Inverted Nipples!!
Help for Nursing Moms
Breastfeeding Info
Why is Breastfeeding So Important?
101 Benefits of Breastfeeding
What do the Scriptures Say About Breastfeeding?
Breastfeeding: It's Every Woman's Right
Mothering From The Heart
Promote Your Page Too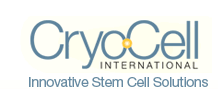 Medela's New
FreeStyle
Hands Free Breastpump!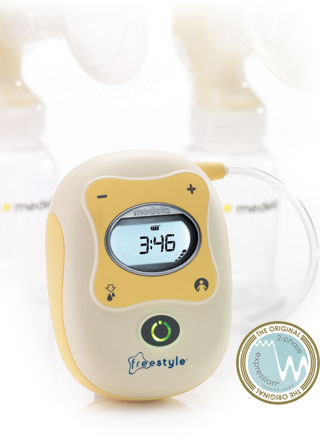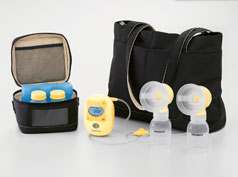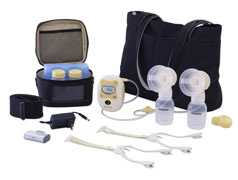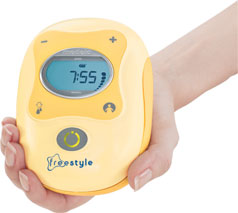 We have a low price guarantee!

Call or email for pricing and ordering: Contact us
FREE GROUND SHIPPING INSIDE THE US
Low price guarantee!
A new Medela Breast pump: Freestyle is Medela's first hands-free, double-electric breast pump. It performs as well as the other top of the line Medela breastpumps, but much lighter and compact with innovative features that allow for freedom and mobility
Features:
Two-Phase Expression Technology
Fits in the palm of your hand and weighs less than one pound
Long Life Rechargeable Battery- three hours of pumping time on a single charge
Structured Waist Belt for securing the pump while mobile
Backlit Display
Built in Timer
Tote Bag to hold accessories
Cooler Tote with 4 Collection containers
SoftFit Breast Shields
Accessories for hands free pumping that fit many bras
Durable and easy to clean
Large bag to fit all of the items you need while pumping and after.
The items listed below are Included with a breastpump purchase from 'Mothering From The Heart' while supplies last:


*A Detailed Instruction Sheet for Increasing Your Milk Supply
*Sample of Mothers' Milk Tea
*Sample of Disposable Bra Pads
*Sample of Purelan or Lansinoh Ointment
*Brochure on the Benefits of Breastfeeding
*The Nursing Mom's Shopping List

PLUS

*Medela Instruction sheets for:
*Collection & Storage of Breastmilk for normal newborns
*Sore Nipple Management
*Working & Breastfeeding
*Breast Engorgement-prevention & treatment
*Buying or Borrowing Pre-owned Breastpumps
*Cleaning and caring for your breastpump
*Brochure on the Easy Expression Bustier for hands free pumping
Need to pump hands free with the FreeSyle?
Click here to Order the Easy Expression Bustier!
While the FreeStyle comes with hands free pumping accessories as shown below, you can easily see that the Bustier will allow for much quicker set up without the hassle of using so many parts to accomplish the same thing The Bustier also will keep the pump breastshield much more stable and will work over ANY nursing bra.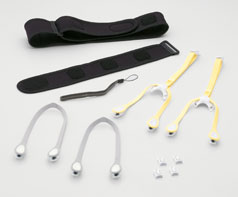 This will allow you to pump while talking on the phone, writing, eating lunch, typing at your computer, reading, tending to your baby! (I have even used it while driving.) A must have for the Pump In Style!!!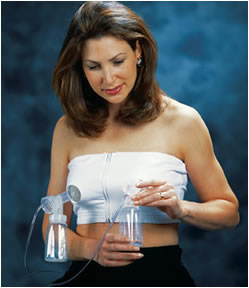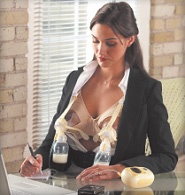 Need to add Micro-Steam bags to your order? These will allow you to quickly sterilize your breastpump parts in the microwave in three minutes. They do not come sterile inside your sealed pump and will need to be sanitized before the first use. Click here to order.
The FreesStyle is a single user product. Use by more than one person may present a health risk and voids the warranty.


FREE GROUND SHIPPING INSIDE THE CONTINENTAL US
Due to Medela's distribution policy for all of their retailers, we are not allowed to list prices or have 'buy it now' buttons on our site for internet sales of the Pump In Style, but if you are interested in this item, please email or phone toll free 1-877-528-7953 to place the order or if you are outside the US, call 1-256-528-7953

We are allowed to list prices and have 'buy it now' buttons for all other items and pumps.

Retailers selling online that do not adhere to their policy by listing their prices and have buy it now buttons may have their contract with Medela terminated, so if you purchase your pump from them, the warranty could be void. You may need to phone Medela to discuss this risk.
Make sure you are purchasing from an Authorized Dealer with Medela Inc. for full warranty. Click here to view Mothering From The Heart listed as an Authorized Dealer.


Will you be using your breastpump without access to water for cleaning between use? Click here for a suggestion that other moms find helpful!!!
Click here for the Advanced Pump In Style Shoulder Bag
Click here for the Advanced Pump In Style Traveler
Click here for the Original Pump In Style New 2005 Updated Model
*Paypal accepts check payment but the products will not be shipped until the check has cleared the bank.

Questions? Contact Mothering From The Heart...
Marsha@MotheringfromtheHeart.com


Prices on all products are as low as possible and also will include help from a trained professional. Personal emails or phone calls will always be handled by a professional lactation consultant when items are purchased with Mothering From The Heart.
Returns
All items sold with MFTH are personal care items, so if opened or used, they cannot be returned, only items in resalable condition can be returned and no returns after 30 days. Returns subject to a 10 % restocking fee plus actual shipping charges. Please contact Mothering From The Heart before sending any returns for approval.
Warranty
Contact the manufacturer directly for defective products. Breastpumps are covered by the manufacturers warranty and they will vary according to which product is purchased. Any defective products also need to be reported to us!

For questions, Contact us